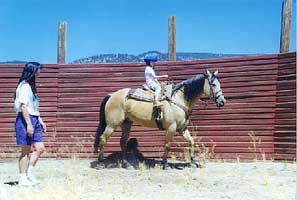 Horseback riding lessons at Sunwolf Farms come in a variety of riding lesson packages and riding styles depending on what your personal goals are, and or what horseback riding lessons/experiences you may already have had.
My techniques are empowering and nurturing, my analogies are easy to understand, and I am an active listener. I enjoy my task and enjoy teaching others the joys of riding, understanding, and becoming one with the horse. I am truly blessed to have the ability and means for which to fulfill this dream.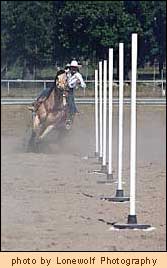 The lessons I offer are in Basic Equitation, Proper Trail Riding and Safety, Barrel Racing and Pole Bending.
All the horses of Sunwolf Farms are very kind, gentle, forgiving, well mannered, well trained and well taken care of. No one single horse here will ever be asked to give more than two hours of lessons per day. They are all fresh and ready to please. Our horses will allow the riders to enjoy and learn…. Not train…. That comes later, if the student wishes to advance their goals.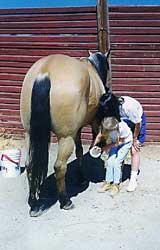 All horseback riding lessons begin with basic instruction starting from the ground up. Putting on a halter, leading, tying and brushing. This enables the rider to feel comfortable and somewhat attached to the animal he or she will ride during their lesson and also shows the rider basic horse "mechanic's". Once some of the basic leading is understood, when the rider then mounts the animal, they will have a more clear understanding of how to ask for certain things and be able to communicate to the horse.
How to Saddle, Properly Care and Maintain a Healthy Horse can also be part of your lesson, again depending on what the students personal goals are.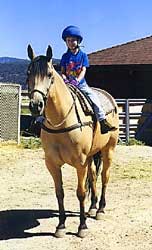 Some students may have no interest in owning a horse of their own, their goals are to be able to rent a horse and "get it to do what they want"…. Teaching these techniques is very rewarding to me for many reasons…. I am able to educate riders by helping them to understand "what the horse may be going through", "may have gone through", "or may not ever have gone through". I do this by placing them on horses that have had different levels of training and or experiences. I offer many solutions to different situations, as every horse may be trained, or, for lack of training, respond differently.
I also offer special showing and or rodeo'ing privileges for those students whom excel and have interest in expanding their experience and do not own their own horses.
Horseback Riding Lesson Packages and Rates

Basic 1-hour lessons
$35.00 per hour
Basic Trail Riding lessons
$35.00 per hour

If you choose to book and pre-pay for a series of lessons,
(4 or more) the second hour is $20.00.

Horse Showing Packages
Custom Pricing