Horseback Riding Lessons
Our girls love taking riding lessons with Sunnie. She is kind, patient, and works wonderfully with children. From the time that we met Sunnie, we were impressed with her program, and the fact that she uses clear benchmarks during her lessons. She has skills that she wants the children to learn, and presents them in an organized manner. At each lesson, she practices previously learned skills, and then presents new ones. Sunnie adapts to both our daughters very different needs.

Our older daughter is shy, and not always confident. Sunnie put her at ease immediately, and is always positive in her feedback when working with her. Sunnie is relaxed and kind with the girls, but she also pushes them to improve their skills.

Our younger daughter has special needs, and horseback riding is part of her therapy. Sunnie has high expectations for our daughter, but is careful to incorporate physical components in the lesson to increase our daughter's strength in her arms and legs. She does it in such a fun way, that our daughter doesn't even realize that she is exercising and increasing strength in her arms and legs.

Finally, our daughters are in love with Phoenix, the horse that they ride during their lesson. He is gentle, and very responsive to verbal cues. We have had other horseback riding lesson experiences, and Sunnie's lessons far exceed our previous experiences.
Tim and Family
---
I am very glad to hear about your project. What a great idea. My family experience that will stay in Travis and in my mind is the kindness and gentleness you both showed when Travis was given the chance to ride Phoenix after your competition at the rodeo.
Travis is still talking about it. But more important he is telling his friends how gentle and easy you must be with a horse. He remembers the rules and ways to walk up to a horse and how he learned how to feed and give Phoenix time to relax after working so hard in the rodeo.
I did not think he was taking in all you spoke about, but he is sharing it with other children. I guess we should never under estimate childrens power to retain info.
Thanks for the memory, I want to thank you and Phoenix for being so patient, gentle and kind to Travis. I am sure he will never forget the "ride", or what he learned.
Kat and Travis B (Travis 5 years old)
---
I'm going to tell you about Phoenix because he is the best horse ever! Phoenix belongs to Sunnie Rose. They teach kids how to ride horses. Phoenix is a kind, patient horse and listens to whatever you say. I always get scared when he starts to gallop because I always feel that I'm going to fall off of him. Phoenix is also very smart. When you ask him if he wants a cookie he nods his head. i like to be with him even when I am not riding him. i wish that I could ride him more. Maybe I'll have a horse like Phoenix someday.
Jenny's Essay (9 years old)
---
Before I came to Sunwolf Farms, I only dreamed of riding a horse. I started riding at Sunwolf Farms when I was six years old. When I first started to ride, I rode Phoenix. I was so little on that big horse but I felt safe because I knew that he was gentle. Phoenix is the horse that I learned how to ride. Phoenix knows when a young rider is on him and will be more careful with them.
Now I'm twelve years old and I am still riding at Sunwolf Farms because Sunnie's a wonderful teacher and a great friend. I still ride Phoenix but not as much as I ride a horse named Axel. Axel and I are best friends. We sometimes ride in Playdays. I've wanted to ride a horse since before I could talk and Sunnie made that happen for me.
Nikki Oxford (12 years old)
---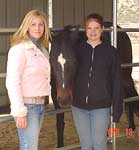 Our family moved to this area not that long ago. We knew that we wanted horses but thought that we should have lessons first. As I would talk with people about horses and lessons, one person was recommended time and time again. "Sunnie Rose, she's the best."
I contacted Sunnie and we set up a lesson for my girls, ages 12 and 15.
Sunnie quickly evaluated each of their riding abilities and tailored the lesson accordingly. Phoenix, the horse they rode, is absolutely the best trained horse I have ever seen. From that first lesson, I knew we would continue with her indefinitely.
Shortly after that I began taking lessons. I find Sunnie fascinating. She has a way of communicating with and instructing each of us at our own level. She uses different techniques during the lessons in order for us to see, hear, and do.
Sunnie's passion for horses is contagious. The girls and I find ourselves anxious for each lesson as we know that we will learn so much from her.
Thank you,
Corinna Johnson
---