Mane and Tail Bags
For Your Horses and Pony's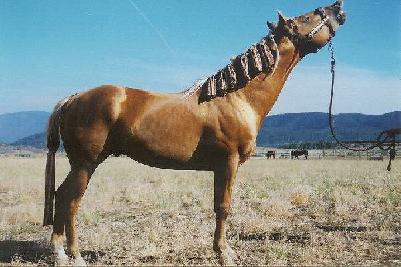 All photos taken by Terrance Bert
Quality, Handmade by "Mom" Washable Cotton, Velcro and Drawstring Fasteners
That Help maintain and keep your Horses Mane's and Tail's Clean and Tangle Free!

In your choice of Heavy (denim like) fabric or Lightweight Cotton

Helps Promote Healthy Hair Growth with Proper Care

Click on the images to enlarge and use your browser "Back" button to return.
Average Horse Size Set Includes:

1 Tail Bag and 7 Mane Bags
Tail Bag is 22 inches long, 4 inches wide
Mane Bags are 10 inches long and 3 1/2 inches wide

$40.00 per set and $8.00 S&H

-----------------------------------------------------

Large Horse Sets, (Draft, Pre, Andalusian, Paso Fino, etc.) Include:
1 Large Tail Bag, 13 mane bags and one forelock bag

Tail Bag is 31 inches long, 6 inches wide
Mane Bags are 12 inches long and 3 1/2 inches wide
Forelock Bag is 8 inces long and 3 1/2 inches wide

$70.00 per set and $9.00 S&H

-----------------------------------------------------

** Extra Mane Bags - $8.00 Each

** Our Products are High Quality and Handmade and may vary in size approximately 1/2 inch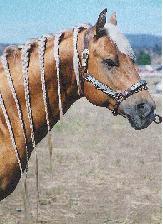 See the Results of Pony Pouches: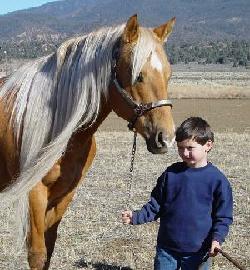 Solid Colors include Black, Navy Blue, Burgundy, Forest Green, Gray, Light Brown, Dark Brown and Red. Custom Colors Available as well.

Patterns Have been discontinued however we welcome Custom Orders and still do have a few in stock.

Custom Orders are Always Welcomed

Simply Braid Your Horses Mane and Tail, Bag Each Individual Braid with
One Pony Pouch.

From Underneath, Slip The Velcro Strap Through
The First Braid Twist At The Top
Of Your Horses Mane and Velcro The Strap Securely, then pull the drawstring and tie.

The Same Process Applies to Securing the Tail Bags.

Here Are Some Helpful Hints

Before braiding, always start with a well cleaned and conditioned mane and tail.

On a weekly basis its a good idea to re-dampen the mane and tail and put in a leave-in conditioner.

Try to make sure there are no areas your horse can rub his mane.

We accept Paypal ( www.paypal.com via email address as sunnie@frazmtn.com)
Or contact us for instructions on ordering through the mail at:
Sunnie@sunwolffarms.com or 1-661-245-9653