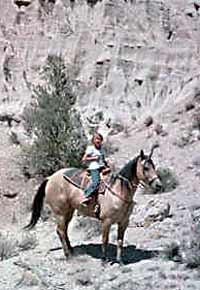 We are a Private Ranch located adjacent to the Los Padres National Forest just 1 1/2 hours north of Los Angeles (see map). There are thousands of miles of trails which include water falls, creeks and streams amidst the beautiful fragrant towering pines.

At this time, our over night camping facilities are closed. We are under going upgrading and reconstruction.

Should you like to be put on our mailing list for the grand re-opening, please email sunnie@sunwolffarms.com with "Camping Mailing List" in the subject bar.

Our new facility will have two authentic log cabins and attached corrals for your horses, as well as RV parking and hookups.Romantic getaways, day trips or custom group arrangements can be made.

Reservations are necessary, health certificates are required and no stallions, please. Guided rides are also available.